St. Volodymyr's Hill (Vladimir-Hill Park)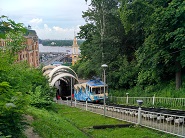 Walking around Kiev, don't miss the opportunity to make a romantic promenade on St. Volodymyr's Hill (Vladimir-Hill Park). For more than 150 years this site has been regarded as one of the most peaceful and charming places in Kiev.
So green and calm, the park has always been inspiring a lot of famous artists and writers.
In XIX century, this place was known as St. Michael's Hill, named after St. Michael's Cathedral of Golden Domes. Step by step, the area was transformed into a park with walking ways, viewing points and pavilions.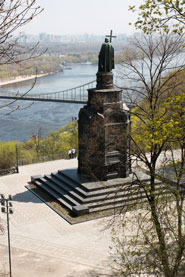 In 1853, a tall bronze statue in honor of Prince Volodymyr was erected there. The monument, also known as the oldest statue in Kiev and one of its integral symbols, represents the baptizing of citizens in 988. A lot of old legends are connected with St. Volodymyr's monument.
One can also find a sculpture representing Italian writer Dante Alighieri located in the park, not far from St. Alexander's Catholic Cathedral.
While exploring St. Volodymyr's Hill, stop for a while and enjoy a magnificent view over the river from old wooden pavilion.
St. Volodymyr's Hill is connected with Podil (the lowland of Dnipro River) by a funicular. The 3-minute trip will make you discover a fantastic view from the funicular cabin. After that, you reach Poshtova Place and the embankment of Dnipro River where boat tours usually start.