General information of Ukraine
Welcome to Ukraine!
Here is a brief general information of our state. Hope these facts will be useful for you to discover more about Ukraine and its life.
Area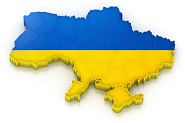 The area of Ukraine is about 603, 7 square km (together with Crimea).
Population
The population of Ukraine is about 44, 7 mln (2016).
Neighbors
Ukraine borders with: European Union (Slovakia, Poland, Hungary, Romania), Moldova, Belarus, Russia.
Capital and the largest cities

Kyiv (or Kiev, according to Russian transliteration) is the capital of Ukraine. It is also its biggest city by the surface (about 800 square km) and by the population (approximately 3,5 million of people). Other important cities are: Kharkiv, Dnipro, Odesa, Donetsk, L'viv.
Ethnic composition
Ukrainians – 77,8%, Russians – 17,3%, Crimean Tatar – 0,5%, others – 4,9%
Name
The name "Ukraine" (UKRAINA) comes from the Slavic word "kraj", meaning "land" or "border", or also "homeland", "region, country". The oldest mention of the word "Ukraina" dates back to the year 1187 (Kyiv Chronicle).
Flag

Ukrainian flag is composed of two equal horizontal bands of blue and yellow colors symbolizing blue sky and yellow wheat fields.
Coat of arms
It is called Tryzub (or Trident), featuring the same colors found on the Ukrainian flag – a blue shield with a gold trident on it. As it is dating from very old times, there are several explications of its meaning.
Anthem
For every Ukrainian citizen these words are very important: "Shche ne vmerly Ukrainy ni slava ni volya" ("The glory and the freedom of Ukraine has not yet died"). From these words, Ukrainian national anthem starts. Lyrics are written by Pavlo Chubynsky, and the musicis composed by Mykhailo Verbytsky.
State language
The only state language of Ukraine is Ukrainian, being of Indo-European family, Slavic group of languages.
Religion

According to the independent survey (2006), 75,2 % of the respondents believe in God and 22 % said they did not believe in God. 37,4 % said that they attended church on regular basis. Most of Ukrainian believers are Orthodox Christians (or Eastern Orthodox), there are also Greek Catholics, Roman Catholics, Muslims, Jews.
Government
Ukraine is a unitary semi-presidential constitutional republic. Ukraine has its Parliament (the Supreme Rada), the Government (the Cabinet of Ministers), the President. Administrative division: Ukraine consists of 24 regions (oblast) and Crimea. Ukraine exists as a sovereign and independent state since 1991.
Geography

Situated in the center of Europe, Ukraine is the largest wholly European country and the second largest country in Europe (after the European part of Russia, before France). The landscape of Ukraine consists mostly of fertile plains (or steppes) and plateaus, crossed by rivers such as the Dnieper, or Dnipro (2200 km, 1204 km within Ukraine), Seversky Donets, Dniester and the Southern Buh. Territory of Ukraine is washed by the Black and Azov Seas. There are Carpathians (western side) and Crimean (southern side) Mountains.
Climate
Ukraine has a mostly temperate climate, with hot summer, cold winter (snowfalls are common), mild spring and autumn.
National holidays

Ukrainians like holidays and celebrations, but only some of them are nonworking days. They are: January, 1 – New Year Day; January, 7 – Orthodox Christmas; Easter; May, 1-2 – Labor Day; May,8-9 – Memory Day and Victory Day; Trinity; June, 28 – Constitution Day; August, 24 – Independence Day; October, 14 – Defender of Ukraine Day.
Money
The currency of Ukraine is Ukrainian hryvnia (UAH), introduced in 1996. It is named after a measure of weight used in medieval Ukraine. It might have indicated something valuable worn around the neck, usually made of silver or gold. The hryvnia is subdivided into 100 kopiyok (coins).The banknotes are 1, 2, 5, 10, 20, 50, 100, 200 and 500 denominations.
Visas
Citizens of the following 5 countries can enter Ukraine without a visa for an indefinite stay: Armenia, Azerbaijan, Georgia, Moldova, Uzbekistan. Holders of passports of EU, Canada, US, Turkey and other countries can enter Ukraine without a visa for a stay up to 90 days within a 180-day period.