Kiev Botanical Garden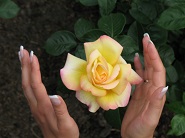 Whenever you visit Kiev, you are always welcome to Kiev Botanical Garden.
Gryshko National Botanical Garden is located on picturesque hills of Kiev, on Pechersk historical area.
For several reasons, it is the must see in Ukrainian capital.
It is one of the most important botanical gardens in Europe. The site covers about 120 hectares and contains more than 12 thousands types of plants. Local collections of lilacs, magnolias, azalea and roses are of special value.
Its territory is divided into Ukrainian Carpathians, Plains of Ukraine, Crimea, Caucasus, Central Asia, Altai and Western Siberia, Far East zones, where plants typical for each particular region can be found. So, plants of all climate zones may be seen in Kiev Botanical Garden.
It offers an excellent opportunity to learn not only about flora of Kiev, but also about its history. Court of princes and ancient monasteries were located on Botanical garden's territory.
It combines the natural beauty and the architectural harmony. Famous holy places - Vydubychi Monastery and Trinity Monastery of St. Jonas - are located on the grounds of the Botanical Garden.
It is an unforgettable experience to stay away from the noisy city, feel the glory of nature, admire rare plants, facsinating panoramas and graceful churches.
So welcome - you won't regret a whole day spent in National Botanical Garden of Kiev.