Buildings of Kyiv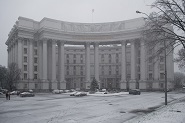 State buildings of Kyiv represent a typical monumental architecture of pre-war Stalin times. They have completely changed the appearance and style of sophisticated Pechersk area without having spoiled it.
One can see administrative buildings of Kyiv – Presidential Executive Office, Supreme Soviet building (Parliament House) and the Ministry building – during Kyiv walking tours.

Golden Gate is one of the few Kyiv monuments that partially remained from the époque of princes. However, Golden Gate may be called a contemporary monument. Can a landmark be both ancient and modern at the same time? Why not!
Kiev city guided tours give you an opportunity to discover more about the past and the present of The Golden Gate.
Ukrainian National Opera Theatre, or Opera House, is located in a heart of Kyiv, not far from legendary Saint Sophia, Golden Gate or Saint Vladimir cathedral. Only the best opera and ballet artists were performing there in different times.
Graceful structure with wonderful acoustic properties, a real zest of Kyiv architecture, is one of the objects of survey for Kyiv city tours.
Olimpiiskiy stadium
Olimpiiskiy stadium – one of the most outstanding sights of Kiev nowadays, has a very long history. Even Kyiv natives may not recall all names of this stadium it had during the period of its existence.
Our guides will give you more information about the history of the stadium and its today's life.
Unusual buildings of Kyiv
House with Chimeras, House of a Crying Widow, and Richard the Lion-Heart Castle may be called the most extraordinary constructions in Kyiv. They are always of interest by their fancy look. They are wrapped with different mystic legends and funny stories.
Discover the most fascinating houses of Kiev during our walking tours!