Saint Vladimir Cathedral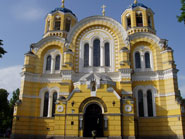 Saint Vladimir (or Volodymyr) Cathedral is often compared with an art gallery. It represents neo-Byzantine style. Actually, the architecture of the cathedral is comparatively not very rich. However, the paintings of the interiour are immensely magnificent and represent a high artistic merit.
St. Vladimir Cathedral was painted by famous artists Vasnetsov, Nesterov, Vrubel and others. Their creatures reflect the human vision of the divine.
The plan of the church was elaborated in 1862, but the first service was held only in august 1896.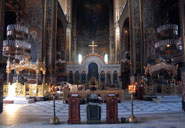 The Cathedral was built for the commemoration of the 900th anniversary of the baptizm of Kievan Rus. St. Vladimir was the prince of Kiev who introduced the Christianity in our city in 988. That's why there are so many images of Vladimir inside, and also of Saint Olga, his grandmother, who was one of the first Christians among rulers of Kiev.
In 30th, the Cathedral was turned into a museum of anti-religious propaganda. Fortunately, it has been preserved till nowadays and hasn't been destroyed like dozens of other religious buildings in Kiev.
Today one may pray to holy relics of Saint Barbara and Saint Makarii reposing in the Cathedral.
St. Vladimir Cathedral is the main one of Ukraine's Orthodox Church of Kiev Patriarchy.