Monasteries and churches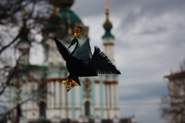 Saint Andrew Church is the most wonderful and refined structure among churches of Kyiv.
So-called «pearl in a crown of Kyiv's churches», it will undoubtedly fascinate a visitor during Kyiv city tours with its incomparable baroque style.
Holy Assumption
«

Pyrogoshcha

»

church on Podil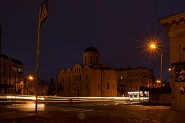 This church can easily be recognized among all the other churches of Kyiv. Being reconstructed in the style of ancient Kyiv architecture, it looks very different and unusual.
Mentioned in old chronicles, Pyrogoshcha has also an unusual name that is not easy to pronounce. Our guide will explain you what «Pyrogoshcha» stands for during Podil walking visit.
Intercession of the Holy Virgin (Pokrovskiy) convent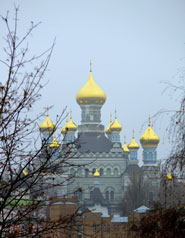 Abode of Intercession of the Holy Virgin, also known as Pokrovskiy, or Pokrov convent, is situated not so far from the center of Kyiv. It is one of the most grace-filled places of the city.
The founder of this sacred place was Grand Duchess Alexandra Petrovna, wife of Grand Duke Nicholas Nikolaevich of the Russian Empire. Deeply religious and very involved in charity work, she founded a convent of nursing nuns with its own hospital, to provide free treatment for the poor. She dedicated the rest of her life to the work at the hospital. In 1889, she became an Orthodox nun under the name Anastasia. She died at the convent in 1900. Today her grave in the convent garden is again tended by nuns and her works continues.
The biggest Christian Orthodox church of Kyiv is located on the territory of the convent. It is named after St. Nicolas.
One may visit this earthly paradise and enjoy its quiet atmosphere during the excursion to various churches and monasteries of Kyiv.
Vydubitskiy monastery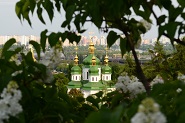 An outstanding architectural ensemble of Kyiv, it possesses a real treasure of ancient period – a church of XI century.
Situated on a picturesque terrain between two hills above Dnieper River, it is certainly worth to be visited by tourists of Kyiv city tours.
One of the constructions of the monastery, St. Michael Cathedral, is built in 1070 and partially preserved till nowadays.
Graceful domes of monastery dominate the territory of the Botanical Garden.
Saint Cyril Church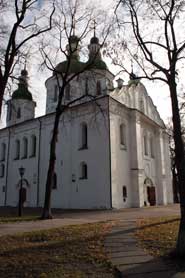 One should see this church at least once, just to feel the peerless aura of this historical monument. Being one of the oldest churches remained from the very ancient times, Saint Cyril Church conceals the mystery of magnificent pictures on its walls.
Initially decorated with frescoes, today it's interiour combines original and renovated oil paintings executed by well-known artists of M. Murashko's painting school and M. Vrubel.
It is possible to visit Saint Cyril church during the excursion to churches and monasteries of Kyiv. The interiour visit can also be added to Babiy Yar tour as the church is located in several bus stops from the Memorial of Babiy Yar.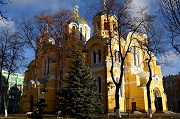 Grandiose construction of the 19th century, a true art gallery, this cathedral is famed for wondrous paintings on its walls and holy relics kept inside.
The architectural style of the cathedral is pseudo-byzantine.
Visiting of Saint Vladimir Cathedral, named after the holy baptizer of Kyiv, is an integral part of Kyiv city tour.
The Holy Ascension Florovskiy convent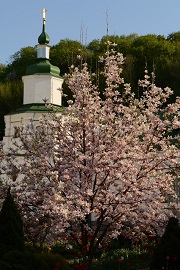 Florovskiy convent is located next to the mysterious Castle hill, on Podil.
The convent entrance is dominated by a gate bell tower built in 1740s and reconstructed in the neoclassical style after a devastatin fire that destroyed much of the historical Podil in 1811.
The territory of women's abode is very peaceful and quiet. The abundance of greenery, combined with comely churches, offers a veritable pleasure to an eye.
Enjoy the beauty of The Holy Ascension Florovsky convent and learn about its history during Kyiv city tour.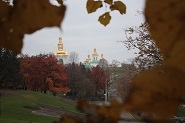 Kyiv Pechersk Lavra is one of the most ancient monasteries in all over the world. It is also a cradle of the Eastern Christianity monastery life.
One can find caves (catacombs) there, where imperishable relics of departed monks repose.
An elegant architectural complex of religious buildings, holy sources of healing water, charming aura of the acting monastery, mystery of caves and various souvenirs attract the attention of visitors. Programs of Kyiv city tours usually include visit to Kyiv Pechersk Lavra.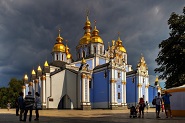 Religious center of Kyiv and Ukraine, extremely sophisticated and harmonic, Saint Michael Cathedral of Golden Domes is always glad to meet numerous visitors.
Built in the beginning of 12th century and reconstructed in times of Ukrainian Cossacks, the cathedral was destroyed by Soviet government in 1930s. Fortunately, today its domes rise above the hill again.
During Kyiv city tour, or during walking Upper City tour, many tourists come here to admire this marvelous creature.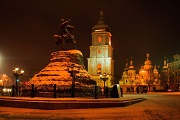 The silhouette of wonderful Saint Sophia cathedral is certainly an integral expressive symbol of Kyiv. Represented on postcards, different souvenirs, in movies, it seems familiar and native to everyone.
Erected in 11th century, Saint Sophia Cathedral is the most vivid example of the Old Kyiv Rus architecture and monumental art.
As many tourists say, splendid Saint Sophia cathedral and its bell tower always occur in memory while thinking about our city.
Saint Nicolas churches in Kyiv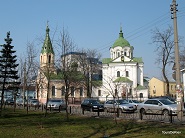 Since the introduction of the Christianity in Kyiv, people has built many churches in honor of the most popular saint – Saint Nicolas. In these numerous churches citizens turned to Holy Nicolas their prayers, pleadings about protection and expressed their gratitude for his miracles.
During Kyiv city tour one can see churches of Saint Nicolas, and many of them are being considered architectural zests of Kyiv.