The Motherland Monument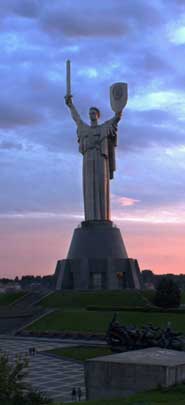 This monument is an integral part of Kiev's image. Risen above hills, bridges and temples, it can easily be noticed from the utmost places in city, especially from the left bank of Dnieper River. As city tours often start from there, the statue is the first sight which impresses our guests. Located in World War II Museum area, it is very popular with visitors.
Some facts about the Motherland Monument:
Famous soviet sculptor Yevgeniy Vuchetich, author of the other "iron lady" in Volgograd, started the creation of the statue. As he died before the structure was completed, it was finished under the guidance of Vasyl Borodai, well known by his Monument to Kiev Founders.
Overall monument's height is 102 m, and it is one of the highest sculptures in the world.
Experts believe that the Motherland Monument should stand intact there for more than 150 years.
According to calculations, the statue can withstand an earthquake of 9 points.
It was originally thought that the monument would be covered with gold leaf, but this idea was abandoned.
Two elevators are installed inside the sculpture: the first is upright, and the second is inclined at an angle of 75 deg.
There are two viewing platforms: one is on the border between plinth and the sculpture itself, and another is installed in arm with shield (more than 90 meters high).
As the legend tells, church representatives of Kiev negotiated with city officials about the sculpture's size. There was a request not to build a construction connected with war higher than well-known bell tower of Kiev Pechersk Lavra (96, 5 m high). As a result, the government met halfway and projected the sword to be shorter, for that the cross of bell tower could dominate.