Kiev, the capital of Ukraine: Kiev city tour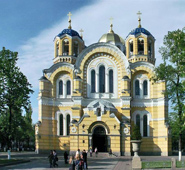 Welcome to Kiev!
This general sightseeing tour is the best way to discover our city. Enjoy Kiev's beauty by observing it while moving in a comfortable car or bus, following city stories and legends told by your English-speaking guide.
Several stops are suggested, so you will be able to take a closer look at the city and take pictures.
For you to see: St. Vladimir Cathedral – Golden Gate – St. Sophia Cathedral (without visiting) – St. Michael Golden Domed Cathedral – Independence Square (Maidan) – Krestchtik, main street (passage) – Dniepr River – monument to Kiev city founders – park of the Eternal Glory – Kiev Pechersk Lavra, monastery of caves (without visiting).
Duration: 3 hours
If you have any questions about this tour,
or you would like to order this tour,
please contact us by cell: +38 (067) 944-81-26
or e-mail Guide@toursdekiev.com.ua
---