Apiary tour + honey tasting in Kiev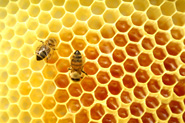 Our special offer for Kiev visitors: apiary tour and honey tasting.
For many years honeybees live close to people. They create honey – high-energy, healthful and top-quality product, which structure is very similar to blood plasma of the human body.
Historically, apiaries were located almost in every Ukrainian village house. Today the number of beekeepers is greatly reduced. However, Ukraine remains one of the advanced countries in honey production.
There is a small apiary situated on the skirts of Kiev city. The apiary owner descended from the family of bee farmer does beekeeping all his life.
We are glad to offer you the apiary tour to discover art and traditions of apiculture in Ukraine.
On our way to the beeyard English-speaking guide will tell you some interesting facts about bees.
During the apiary visit you will see hives and their inner workings, bee-smoker and other professional beekeeping equipment, the queen bee and the bee-family. You will learn about how bees gather nectar and turn it into honey, about many different apicultural products.
While teatime you will taste different kinds of honey. They are for sale and prices are moderate.
If you are interested in other aspects of Ukrainian culture, you will discover simple Ukrainian people everyday life by example of beeyard owner's family. According to our customs, they will meet you with traditional cottage loaf and invite dear guests for lunch. You will taste delicious homemade dishes of Ukrainian ethnic cuisine and hear traditional songs sung by children.
Please note:
As the beeyard is small, maximum 10 persons may be received.

Tours are weather dependent.

Visitors are always carefully supervised by apiary and to the utmost protected from bites. However, it is better to wear long-sleeved clothes. Protection masks are given.

If you have any questions about this tour,
or you would like to order this tour,
please contact us by cell: +38 (067) 944-81-26
or e-mail Guide@toursdekiev.com.ua
---