Orthodox Christian monasteries of Kiev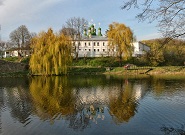 Kiev is a cradle of the Orthodox Christianity in Eastern Europe. Pilgrims from all over the world come here to visit numerous monasteries and churches of Kiev.
Kiev is very proud of Pechersk Lavra – one of the most ancient Christian monasteries in Ukraine and all over the world. Famous for its caves (or catacombs) with imperishable relics inside, it is very popular both by its religious and secular visitors. But, even being very well-known, Kiev Pechersk Lavra is not the only Christian Orthodox in Kiev. Our city has a lot of beautiful holy places which are less popularized. There are wonderful sacred areas like Kitaevo, Feofania or Goloseevo where ancient monasteries are located. You are welcome to visit them in our Orthodox Christian Monasteries guided tour.
In this tour, you will have an excellent opportunity to:
Admire magnificent churches, whisper your prayer and put a candle inside;
Learn about the past and present day of Kiev's monasteries;
Reflect upon the Eternal in caves of Kitaevo;
Feel the beauty of nature of Kiev's outskirts in Goloseevo;
Drink the Holy Water from the cleanest natural sources in Feofania;
Step back from the noise and fuss of the megacity;
Touch the relics of the local saints.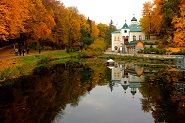 Located in outskirts of Kiev, these monasteries are not very easy to reach by public transport. So, this excursion will be useful both for religious and laic people to discover the charm of the architecture, nature and faith united in monasteries of Kiev.
Sites of visit: Holy Trinity monastery in Kitaevo, Saint Pantaleon convent in Feofania, Intercession of the Holy Virgin monastery in Goloseevo.
Duration: 3-4 hours
Note. For ladies, headscarf for hair covering is needed. Appropriate clothes and shoes are preferred. Bottles for the holy water and small money for candles may be taken with you.
If you have any questions about this tour,
or you would like to order this tour,
please contact us by cell: +38 (067) 944-81-26
or e-mail Guide@toursdekiev.com.ua
---