Tours to Kiev for individual visitors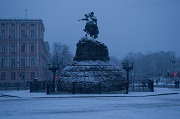 If you travel alone or in a small company of your family or friends, we'd be glad to provide you high level of touristic service and support in Kiev city, Ukraine.
We provide comfortable car (1-6 persons) or mini-bus services (1-8 persons) for you to explore the city with your English-speaking guide.
First visit to Kiev, Ukraine
For your first visit, we'd recommend our panoramic sightseeing tour. Discover the most beautiful and the main sites of Ukrainian capital within 3 hours of the excursion.

Sometimes our clients coming here for business don't have much time for city visiting, so this tour could be a good opportunity for busy travelers to meet at least the most important city sites.
If you travel with children, various amazing places for kids to visit will be included in your route.
To discover more of Kiev
If you have time and desire to learn more about Kiev city and Ukraine, we have various options for you:

Guided walking tours to Kiev
Walking tour is the best way to find out more about the city. We could do general walking tour or the one inside famous central areas (Historical area, Downtown,
Kiev Pechersk Monastery
and many others).
Ukrainian rural life open-air museum
To learn how Ukrainians lived more than hundred years ago, welcome to
Pyrogovo museum
.
Yanukovich former residence guided visit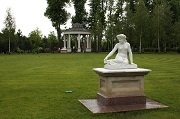 This site became open for visitors only in 2014.
Welcome!
A gorgeous park with ponds, nice pavilions and walking ways, luxury buildings like Yanukovich House, magnificent Kiev Sea views are for you to visit.
Boat tour
In spring or summer, the best way to relax is to do a
boat Dnieper River tour
. Enjoy our beautiful city from this unusual point of view.
For advanced visitors
Excursions and museums
Explore the most amazing areas of Kiev city and join visiting of a museum to your excursion. Visits to Chernobyl museum, Pharmacy Museum, Water Museum and others could be completed with 1-hour guided tour to the appropriate area.
Outskirts of Kiev
Visit Kiev city outskirts to find less known but awesome places like
Feofania
,
Kitaevo
, the Bald Hill and more.
Discover other cities
Old Chernigov
This city has even more of historical sites than Kiev, and in is located only in 2-hours of pleasant picturesque way from Kiev.
Picturesque Pereyaslav
A very nice place to visit. It is also called a city of museums.
Gorgeous parks in Bila Tserkva or Uman
Ukraine is proud to invite tourists in best parks of Europe. Olexandria park in Bila Tserkva or Sofiivka park in Uman look fantastically, especially in spring and in autumn. It is easy to get there by our private transport, and our English-speaking guides will tell you some amazing historical facts about these sites.
Ostrich farm near Kiev
Meet ostrich, the biggest bird on earth, learn more about this funny creature and enjoy feeding other animals in a small contact zoo.
A good opportunity for all of those who like sweets ! Try ecologycally pure honey, discover more facts about bees and meet Ukrainian family that keeps traditions of the past.
Other services
Booking our excursions, you'll also be able to use our transfer services.
Our guide will be glad to give you advice about Ukrainian national cuisine, transport, booking of other activities etc.
Join us to discover Ukraine and Kiev!
If you have any questions about this tour,
or you would like to order this tour,
please contact us by cell: +38 (067) 944-81-26
or e-mail Guide@toursdekiev.com.ua
---