Pechersk walking tour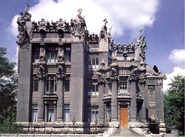 Pechersk is a historical area of Kiev. It is rich on awesome landmarks.
This walking tour starts from Lipki ("Quarter of Linden Trees") – an aristocratic part of Pechersk. Notables of 19th-beginning of 20th centuries lived there in their luxurious private residences. These charming and refined houses are preserved till nowadays.
Every house has its history. We'll learn more about outstanding people that used to live there.
Then, we walk around the administrative part of Pechersk. It is represented by Stalin times architecture – state buildings of today.
In the end of this tour, Kiev guests are invited in Pechersk parks where Royal Palace and nice sculptures are placed. We'll go over romantic Bridge of Love to see Kiev Toy Theater located in a beautiful castle.
A final accord of Pechersk tour is a splendid and unforgettable panorama view.
For you to see: Liberman House, House with Chimeras, House of Crying Widow (old private houses), The Administration of President, Ministry building, House of Parliament, National Bank house (administrative buildings), Royal Palace, Bridge of Love, Toy Theater building, Water Info Center, Monument to Friendship, Panorama (in parks).
If you have any questions about this tour,
or you would like to order this tour,
please contact us by cell: +38 (067) 944-81-26
or e-mail Guide@toursdekiev.com.ua
---