Kiev Metro Guided Tour (for individuals)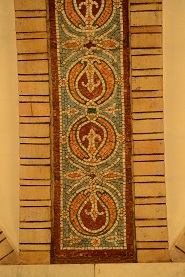 Metro is a fast, convenient and eco-friendly mode of transport. And these all are not its only advantages. In Kiev, metro is clean, cheap, impressively deep and very beautiful!
The construction of metro in Kiev started after the WWII, and the architectural style of those times influenced it a lot. Marble pylons, granite floors, luxury lusters, sculptures – stations of the first section look like assembly-rooms.
Later stations are much simpler but, however, represent an interest from the point of view of the functionality.
In addition to that, some stations of Kiev metro make part of the national cultural heritage.
By the way, there are many amazing facts and secrets connected with metro in Kiev. We are happy to offer you this guided tour to discover more of Kiev metro and to see its most remarkable stations.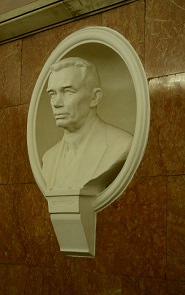 Kiev metro guided tour itinerary includes the following stations:
Zoloti Vorota (or Golden Gate), that is decorated with incredible mosaic compositions. The station is regarded as one of the most impressive metro stations in Europe, being placed on a list compiled by The Daily Telegraph in 2013;
Teatralna, adorned with a red granite of origin of the same quarry where stone for Lenin's Mausoleum was mined;
Khreshchatyk, whose colorful glazed tiles are perfectly combined with white marble walls and metallic bars;
Arsenalna, the deepest station, whose two escalators will take you 105 meters up in a five-minute ride;
Dnipro, located over the embankment highway, opening fascinating views of the river, city islands and its left bank;
Universitet, having beautiful rosybrown marble pylons with gypsum bosoms of famous people;
Vokzalna, with its white-marble pylons decorated with bronze medallions depicting the various episodes from Ukrainian Soviet history;
Shuliavska, consisting of numerous columns covered with small multi-colored tiles and a central hall that ends with typical soviet mosaic composition.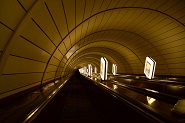 During Kiev metro guided tour, your guide will explain:
why handrail of a moving escalator runs faster than its steps;
where the city air-raid shelter for officials is probably located;
how the construction of deepest metro station in the world was proceeding;
what Kiev metro station imitates the Orthodox Christian church;
who was responsible for an unprecedented 3-days dysfunction of metro in 2014, and many other facts.
Duration: 2 hours
If you have any questions about this tour,
or you would like to order this tour,
please contact us by cell: +38 (067) 944-81-26
or e-mail Guide@toursdekiev.com.ua
---