Museum of The History of Ukraine in World War II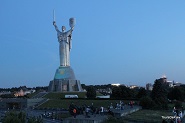 Museum of The History of Ukraine in World War II is included into the War Memorial Complex that covers the area of about 10 hectares. It commemorates the German-Soviet War and the contribution of Ukraine in the Great Victory.
This museum of Kiev is considered to be one of the largest museums in Ukraine, and it has been attended by over 21 million visitors.
Other landmarks of the memorial complex are:
Motherland Monument - a massive sculpture that crowns the Museum's building. he height of he construction, together with its pedestal, is 102 meters. Erected in 1981, it has become one of the best recognized landmarks of Kiev;
The Flame of Glory bowl;
A site with World War II military equipment;
Alley of the Hero Cities;
Armaments used by the Soviet army in different times;
Alley of sculptures discribing the courageous defence of the Soviet border from the 1941 German invasion, terrors of the Nazi occupation, partisan struggle, devoted work on the home front;
Crossing of the Dnieper monument.
As the War Memorial Complex is located on the picturesque hills on the right-bank of the Dnieper River, its territory opens magnificent views on the River, bridges, islands and present-day buildings of the left-bank city side.
This site can be visited within Kiev City loop tour, or separate walking tour is possible. Located close to Kiev Pechersk Lavra, WWII Museum guided visit can also be joined to the Monastery of Caves tour.
If you have any questions about this tour,
or you would like to order this tour,
please contact us by cell: +38 (067) 944-81-26
or e-mail Guide@toursdekiev.com.ua
---