Kiev city wedding tour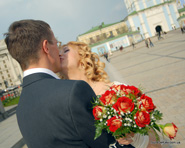 Kiev is an excellent place for weddings! The city, just like the big wedding palace, has everything for just married and the guests: picturesque places for photo session, golden domed cathedrals for the ceremony, monuments and parks to visit after the marriage registration, good restaurants for the celebration.
All relatives and friends come to congratulate the new born family. So, wedding day gives a good opportunity to gather everybody together, to see members of the family living far away and to meet new people. Even guests from abroad arrive to wish happy wedding day to the couple.
We are glad to offer a special Kiev city wedding tour to your guests. If you have few hours before the ceremony of between some of its stages – don't hesitate to contact us. We'd be glad to represent our capital to visitors. We know how to distract your guests, what to show and what to tell about in this field day.
During this tour, guests of the wedding will become familiar with each other. They will see the most attractive places and hear love stories appropriate to this joyful day.
Wedding tour starts and ends where you wish, and lasts for a time you need. It won't be tiring and will bring new emotions to your guests.
Comfortable vehicle for appropriate number of visitors (car, mini-van, bus, mini-bus) and amazing English-speaking Kiev city guide are at your disposal.
Congratulations on your wedding day!
If you have any questions about this tour,
or you would like to order this tour,
please contact us by cell: +38 (067) 944-81-26
or e-mail Guide@toursdekiev.com.ua
---