Lysa Gora, or The Bald Hill tour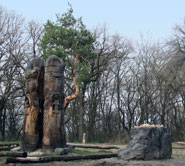 There is no doubt that Kiev is a city of mysteries. Numerous legends about haunted houses, witches and supernatural forces are relative to the city. The population of Kiev has always been a little bit superstitious, starting from the most ancient times till now.
Actually, living in a big city, we don't believe in ghosts or sorcerers. However, many people are still convinced that numerous places having a very powerful biofield are located in city limits, and scientists prove that. For example, some locations connected with tragedies of the past, just like Babi Yar, or with earnest prayers of pilgrims, just like caves of Kiev Pechersk Lavra, have a very strong wattage. These places may attract us, make us feel good or bad, or affect us differently.
One of the most famous places having a very powerful energy is Lysa Gora (or Bald Hill, translated from Ukrainian), located in one of Kiev's outskirts. From old times it has been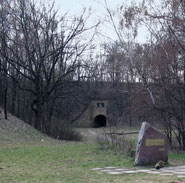 known as a meeting place of witch-doctors, sorcerers and evil spirits. Not only legends, but also novels of Gogol or Bulgakov describe a hill as the location of Black Sabbaths in Kiev, which can probably be the Bald Hill.
History shows us another side of the medal. Archeological researches prove that the Bald Hill in Kiev has been a place of pagan temples and cemeteries. Sacrifices to Slavic pagan gods were done there.
In 19 century, a huge fortress was constructed on the hill's territory. No military actions were done there, so it was transformed into a jail. Prisoners of the State were executed and then buried next to gibbets installed on the slopes of the hill.
Before and during The WWII, there were an underground military plant and a German tank base. Sometimes debris of tanks are found on the hill.
Despite all the "hair raisers" about The Bald Hill, it is a very attractive place by its nature and gorgeous views. It is popular with visitors who come for excursions or picnics, bicycle riders, runners. However, they all are not so numerous, and The Bald Hill remains a quiet place.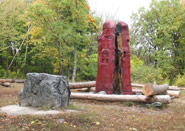 Today you have an excellent opportunity to visit and discover all legends and facts of the Bald Hill in Kiev. Our English-speaking guide will show you: earthworks, water reservoirs and walls of the former fortress; pagan idols imitation; landscapes, views and rare plants representing the natural treasure.
Tour type: walking/ using private transport to reach the location
Duration: 2-3 hours
Comfortable shoes are recommended.
If you have any questions about this tour,
or you would like to order this tour,
please contact us by cell: +38 (067) 944-81-26
or e-mail Guide@toursdekiev.com.ua
---