Best parks of Kiev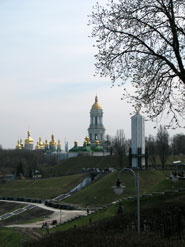 The best thing to do in Kiev is to go for a walk together with city guide. And the best place for walking is Kiev parks area. When the weather is fine and there is no hurry – Kiev parks walking tour offers a true pleasure for body and soul. Nature, calm, fresh air, fantastic views, interesting sights – everything for you in the very heart of the big city!
There are many parks located one close to another in Kiev city center. They are all different but, at the same time, very similar with their beauty and special aura.
Park of the Eternal Glory
This place is quite solemn: there are graves of city defenders, the eternal flame, the monument dedicated to the tragedy of Holodomor in Ukraine… But it is uneasy to stay sad for a long time here because of magnificent panorama that can be seen from the top of the park hill. Kiev Pechersk Lavra, Dnieper River and its left bank, Metro Bridge – everything looks wonderful from the highest top of this park. Just married couples often come here to take pictures.
Mariinskiy Park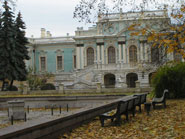 The park is spacious, with wooden benches, old fountains and ice cream stands. The name of the park reminds of Empress Maria who lived in a beautiful palace here. The palace itself still remains and looks splendid despite of years passed. It is located near The Supreme Rada building. Some sights make this place more attractive and interesting to visit. They are: park sculptures, Dynamo stadium and The Bridge of Kisses.
Mariinskiy park is very popolar with Kiev citizens and tourists.
Khreschaty Park
Situated next to Khreschatyk Street, it is represented by Puppet Theater, Water museum buildings and Monument to Friendship. The latest one, illuminated by multicolored lights, looks like rainbow at night. Easily seen from the distance, it is a good landmark to find the best view point in Kiev. Just come closer, and the entire city spreads out before you!
Saint Vladimir Hill and park
On the opposite hill the monument to Saint Vladimir the Baptizer can be observed. It gave the name to the park located on that hill. If you are not tired after walking through three parks – please come to the fourth! Pedestrian lanes and alcoves of 19th century will make you fall in those times.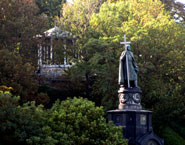 This is the best place to feel the present and the past, and to think about destiny of the eternal city of Kiev.