Monuments of Kiev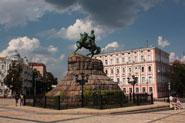 In the middle of famous Saint Sophia Square, near Holy Sophia Cathedral, you can see a monument to Bogdan Khmelnitsky built in 1888 by architect Mikeshin. Khmelnitsky was a Ukrainian Hetman of Ñossacks, leader of the Cossack Army and of Ukrainian Cossack Land of 17th century.
One of the oldest monuments in Kiev, the most harmonious one among equestrian statues of Kiev, it is recognised as one of the integral city symbols.
Candle of Memory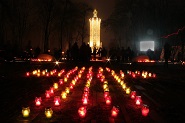 Candle of Memory is a part of a memorial complex devoted to victims of Holodomor, or Famine-Henocide in Ukraine. In 1932-1933, Soviet Ukraine lost more than 7 million of people because of the starving initiated by government.
The monument was solemnly opened in November, 2008. It took a long time to unveil the secret documents and than to prove that Holodomor has been a crime of Soviets against Ukrainians.
The whole memorial complex includes the museum dedicated to Holodomor, and other monuments.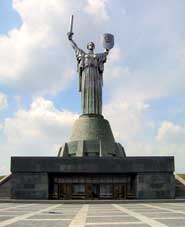 Motherland is a massive female warrior statue that can be easily noticed from numerous points of Dnipro River's left bank in Kiev.
It is a part of the National Museum of the History of Ukraine in the Second World War, included into the War Memorial Complex that one may see in the open territory of the Museum.
Motherland Monument crowns the Museum's building and the whole hill. The heigth of the construction, together with the pedestal, is 102 m.
Bronze monument to a famous actor and a recognized "Golden Calf" book character is installed on the corner of two central streets of Kyiv.
Don't miss the opportunity to turn from the main street of Kyiv to Prorizna Street and take picture with the sculpture of Panikovskiiy.
A small sculptural composition near Saint Andrew Church reminds of characters and actors of popular Soviet comedy movie «After Two Hares»
Many scenes of the movie were filmed in this place. As a lot of Ukrainians and USSR-born people are great fans of the movie, the monument is very recognisable and beloved by tourists.
Soviet steam locomotive class IS and its history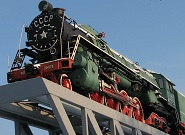 Soviet steam locomotive class IS (or JS – Joseph Stalin) is a unique one. It is remained one-of-a-kind and preserved in Kyiv. While leaving Kyiv, passengers of railway station often see this rarity, but they even do not realize the real historical value of it.