Kiev Opera House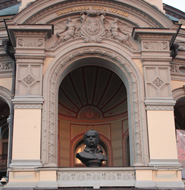 Ukrainian National Opera House in Kiev was erected in 1901 and replaced the wooden Opera House building ruined by fire. Later it was named after Taras Shevchenko – a famous Ukrainian poet, writer, artist, public and political figure, one of the symbols of Ukrainian people.
Opera House was built by Victor Schröter – a prominent architect of German ethnicity. The exterior was created in Neo-Renaissance style.
At that time, Kiev Opera Theater was the largest one in former Russian Empire: it could seat more than 1600 spectators. The acoustic capacities of the hall were perfect.
But not all of responses about Opera House appearance were positive. Some Kiev's newspapers compared the building with "a giant turtle lying in the middle of the place".
Having seen Grand Opera in Paris or Opera and Ballet Theater in Lvov, citizens considered Kiev Opera House to be poorly decorated. But the true connoisseurs of architecture found that Opera style's features are rather moderate and exquisite.
The main entrance of Kiev Opera House is decorated with two winged women – illusory creatures supporting and bringing success to performers.
In Soviet times, the government planned to reconstruct the Opera building in order to make it more "proletarian-like". Fortunately, for some reasons, it didn't happen.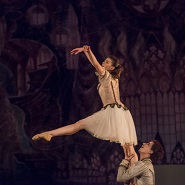 The edifice survived another difficult period during the occupation of Kiev in WWII. It was hit by a bomb that didn't explode.
Nowadays about 1300 people can be seated simultaneously in Kiev Opera House.
Ukrainian Opera and Ballet Theater is famous all over the world. A true jam of Architecture and a temple of Art, it is very popular by citizens and visitors of Kiev.
The repertoire of Kiev Opera is very rich. Amongst the most visited we could mention such operas as Aida of Giuseppe Verdi, Carmen of G. Bizet, Il Barbiere di Siviglia of G. Rossini; such ballets as Giselle of Adolphe Adam, Cinderella of Sergey Prokofiev, Swan Lake of Pyotr Tchaikovsky.
Kiev Opera House is seen during general city tour or walking tours.