Kiev islands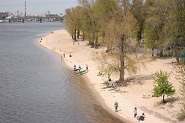 Islands of Kiev create the unique image of the city. Here you can see a chain of big and small islands between two benches of Dnieper River which represent a green space of the city.
Despite the neighborhood of megacity, some of Kiev islands still keep their own ecosystem. Almost all islands have clean beaches; few of islands on Dnieper are not spoiled by human activity and even keep primeval nature.
You can find 38 islands on Kiev map. Two of them can easily be reached. But most islands are rather isolated and can be visited only with the help of motor boat.
Here are the biggest and most interesting of Kiev islands on Dnieper River:
Muromets Island
It is located next to Moscow Bridge In Kiev. The name of the island can be explained by a legend about Warrior Illya Muromets (Illya of Murom) who protected the boarders of Kiev on this island in ancient times. People believe that swimming next to Muromets Island brings health and strength of the legendary Warrior Illya.
Trukhaniv Island
It is named after Tukhur-khan, whose daughter became wife of Kiev's prince Sviatopolk in historical times. The palace of Tukhur-khan's daughter was located on this island. In XIX century, there were numerous buildings – church, yacht-club, various restaurants, first public beach in Kiev – but everything was destroyed during World War II.
Now Trukhaniv Island is an important green space of Kiev. Beaches, sport clubs and small restaurants are located there. The island is very popular with holiday-makers in summer. One can reach Trukhaniv Island using Footbridge across Dnieper River (400 meters in length).
Hidropark
Two islands of Kiev connected with a romantic Venice bridge provide place for Hidropark - a huge green park, which is very crowded during summer season. It offers different distractions: beaches, places for picnics, carnival rides, disco bars and kebab restaurants. Those who like sports will find tennis courts, carting, paintball and open air gym there. There is "Hydropark" metro station to reach these islands.
Zhukiv Island, Olga Island, Cossacks Island
These islands are considered to be reserves, but, unfortunately, they are protected only on paper and are in danger to be slowly build-up. They all possess numerous rare plants, fauna is also well developed there (hares, boars, tortoises and other small animals).
Located far away from city center, there islands still have clean beaches and picturesque nature. People can reach them only on motor boat, and that makes them to be not crowded. Choosing these islands as a perfect place for calm holiday or picnic, remember to behave environmentally-friendly.
---
All beautiful Kiev islands can be seen during our boat tour.