Parks of Kiev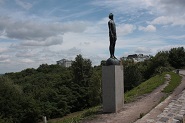 This romantic quirky alley is very recognisable due to numerous mosaic compositions, extraordinary sculptures and nice panoramic views.
The alley starts from Old Kyiv Hill, the cradle of the ancient city, and ends near Lvivska Square.
It is a wonderful place to visit, especially if you stay in Kiev with kids. Children will find funny animal-shaped sculptures and art playgrounds there. As for adults, there are cofee-points, modern art sights and good spots for taking pictures.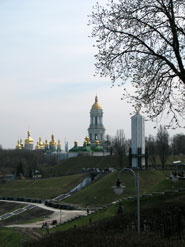 Welcome to a long but amazing excursion to the most beautiful city parks. All of them have central location and are rich on various landmarks.
The park of the Eternal Glory offers a glorious views of the city. Than goes Mariinsky Park, where the former Royal Palace is situated. The park is decorated with rare trees, old fountains and park sculptures. There is a Lover's Bridge uniting Mariinsky Park with its neighbour, Kreshchaty Park. There you'll find famous Water Museum and Puppet Theater.
In the end, if you are still not very tired, you will discover Volodymyr Hill with its breathtaking views over the Dnipro River.

Whenever you come in Kiev, you won't regret the National Botanical garden visit.
Admire the beauty of fruit trees and magnolia blossom in early spring. Sniff the inimitable scent of lilac in May. All flavors of roses and garden of species are for you in summer. Golden leaves of trees and tenderness of chrysanthemum in autumn will make you believe you are in a true paradise.
Kiev Botanical Garden combines old churches, quiet walkways and rare plants. All colours of nature are waiting there for visitors.
Saint Volodymyr Hill

Saint Vladimir (Volodymyr) Hill, or Volodymyrska hirka, is one of Kyiv city parks that have central location. It was founded in 1850s. The park has such famous landmarks on it's neighbourhoods as St. Michael Cathedral, St. Andrew Descent and funicular.
One of the most prominent city symbols – monument to Prince Volodymyr – is located in this very park. It dominates the steep right-bank of the Dnipro River.
The park is a perfect place for romantic walkings. It has several points offering rare fine views of the river and Podil area.
Navodnitsky Park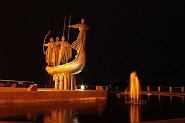 This park is located on the embankment of the Dnipro River, between two bridges across the river. It occupies the surface of about 14 hectares. Being situated rather far away from the central part of the city, it is usually not very visited. However, according to the local tradition, it is a must for just married and wedding guests.
In 1982, a famous sculpture representing Kyiv legendary founders was installed there. The park gives a lot of opportunities for taking good pictures.