St. Nicolas Roman Catholic Cathedral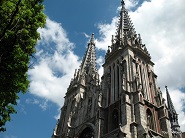 According to statistics, more than 33 thousands of Roman Catholics inhabited Kiev in the end of 19th century, composing 13% of the city population of those times. After Orthodoxy, Roman Catholicism was the second after the number of believers in Kiev.
However, there was only one religious center of Catholics in Kiev, a well-known St. Alexander's Cathedral. It was definitely not enough for such a great number of followers. So, the local Polish community gave donations for the construction of a new cathedral.
The Cathedral was named in honor of Emperor Nicolas II of Russia. The construction lasted from 1899 till 1909.
V. Horodetsky, a famous architect of Kiev, accomplished and approved the design of S. Volovsky, his student.
The building represents so-called New Gothic style. It is crowned with two pointed 60 meter towers. The cathedral is lavishly decorated with sculpture: l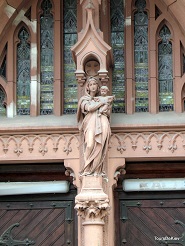 eaves, crabs, cruciform flowers. Three portals of the building are ornamented with stucco mouldings, and there is a beautiful rosette window above the main entrance.
The interiour of St. Nicolas Cathedral has an excellent acoustic facility. That is why the building is often used not only for services but also for concerts of organ and chamber music.
In 2001, Pope John Paul II visited the cathedral.